Sustainable sports vacation in Tyrol | The Hohe Salve Sports Resort
Everything for a sustainable vacation
in the Kitzbühel Alps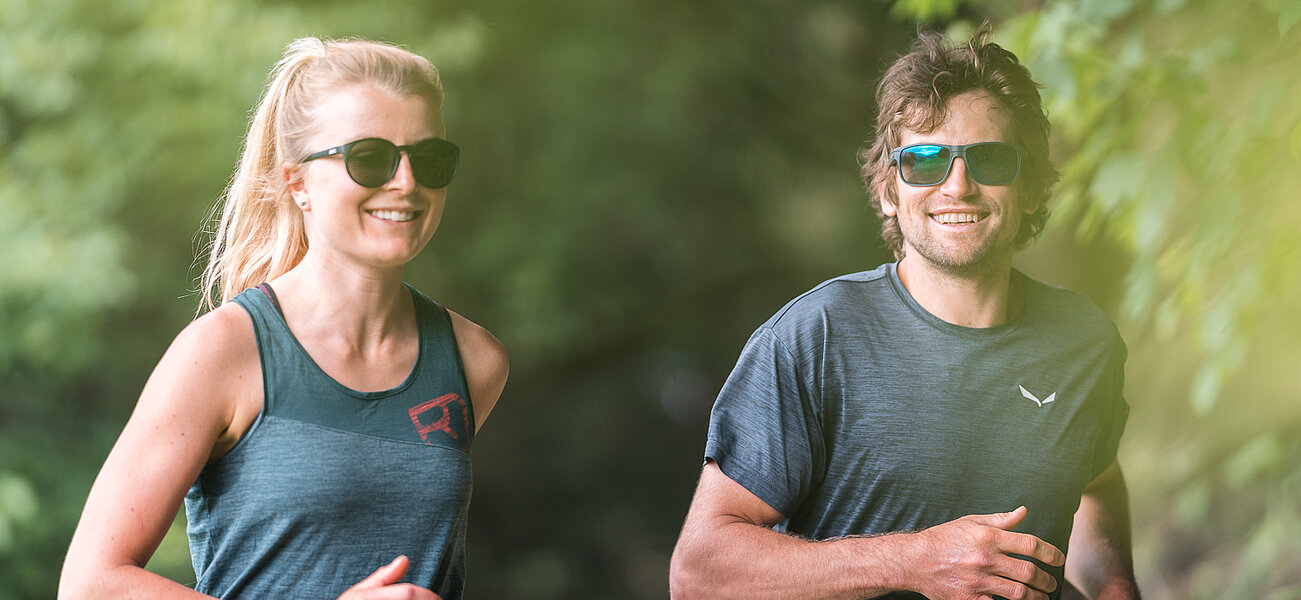 Together with our guests, we would like to look to the future full of joy. That has always been our motto at Das Hohe Salve Sportresort. With our sustainable offers, we not only ensure that guests feel good on holiday, but also dedicate ourselves to the future of our precious planet and the beautiful region of the Kitzbühel Alps with great foresight.
Both in our restaurants and in our Move & Relax area, as well as in energy production, we are working on future-oriented sustainability goals. In doing so, we not only want to promote ecological sustainability, but also social interaction between guests, employees and our partners from the region. Conservation of resources and sustainability in tourism are given top priority at Das Hohe Salve Sportresort!
We see sustainability as an opportunity for positive change and combine hospitality with modern, future-oriented and ecological responsibility in our resort. Look forward to a nature-oriented and balanced experience on your next holiday at Das Hohe Salve Sportresort!
Holiday in an environmentally friendly hotel
The moderate consumption of resources such as water and electricity, the idea of not wasting food, reducing CO² emissions and treating our employees with equality and appreciation - these are all goals that we have been realising day after day since the founding of Das Hohe Salve Sportresort in the Brixental. Whether in our spacious Move & Relax area or in the rooms - sustainability is lived in our environmentally friendly hotel. This makes your holiday in Tyrol a unique, green experience!
With our sustainable hotel in Tyrol, we offer our guests the chance to travel more consciously and at the same time more adventurously and healthily. After all, we know that environmental awareness is highly important for society and for a secure future, and we have developed a special sense of shared responsibility as well as environmentally friendly and socially responsible tourism.
The biking and hiking region around the Brixen Valley attaches particular importance to preserving the picturesque surroundings. Climate protection, sustainable forms of energy and energy efficiency are therefore promoted in various areas of our hotel at Das Hohe Salve Sportresort! In coordination with the communities as well as farmers and certified partners from the region, we work every day to make our hotel even more sustainable and to save important resources. In doing so, the focus is on both ecological and economic and social optimisation measures in terms of sustainability - for example:
The installation of resource-saving LED light bulbs.
The implementation of sustainable measures in the mobility sector (such as charging stations for e-cars).
The installation of photovoltaic systems for climate-friendly energy generation.
The use of environmentally friendly heat pumps to keep the pool at the desired temperature.
Discover our specials for your holiday
At Das Hohe Salve Sportresort you will experience an exquisite holiday that you can tailor to your needs.
Whether it's a mountain bike holiday, romantic togetherness or a holiday full of pleasurable experiences: However you want to spend your time at Das Hohe Salve Sportresort, you will find the right packages for it at our hotel. We offer our guests the ideal combination of sustainable relaxation and a generous range of nature-based experiences and sporting highlights.
During your wellness holiday at Das Hohe Salve Sportresort you will find the ideal conditions to recharge your batteries in the long term: a spacious indoor pool, healthy nutrition that provides the basis for health and clear skin, sufficient exercise - ideally outdoors - and an ambience full of harmony in our Relax area, which invites you to relax. The Hohe Salve Sportresort wants to sustainably optimise your lifestyle with the Move & Relax philosophy. You will learn exercises with us that you can easily practise at home. Our movement philosophy focuses on individual body awareness and body control. Many exercises can be done with your own body weight and without equipment. Keeping joints mobile and healthy, strengthening the body's core and musculoskeletal system, and finding the individual balance between movement and regeneration are among our lasting focuses. Simple therapeutic regeneration methods against muscular fatigue or mental stress can be learned during a stay and implemented at home. In this way, you can rediscover the balance of your everydaylife with Move & Relax.
Sustainable cosmetic and wellness treatments with high-quality products act like balm for the soul and give a positive radiance. That is why the experienced beauticians and sports scientists in our Move & Relax area are here to pamper you from head to toe. Natural cosmetics from selected companies such as REVIDERM are used for all treatments. Your individual wishes and needs are always the focus.
Sustainable & regional food
Sustainable consumption and organic and regional cuisine are in vogue. Many of our guests are keen to try out and enjoy regional food and drink on holiday. Guests want to know where the products come from, how they are made and who is behind them. The special features of the Kitzbühel Alps region and its authentic experience come to the fore in our hotel kitchens.
90 % of the food comes from Austria.
80 % of the food on offer is produced in the Pletzer Resorts kitchen.
Salads, pastries, milk, meat, fruit, vegetables, eggs and many other foods are sourced regionally from Austria.
Mainly natural ingredients are used in our kitchens, we do not use convenience food instead.
The high quality of the products without chemical additives ensures that our energy cuisine is full of vitamins and nutrients.
All breads, rolls and delicious pastries come from the Margreiter bakery. The regional fruit wholesaler Maier regularly supplies our house with fresh fruit and vegetables. We obtain dairy products from Austria from the Milchbuben - who are known for their locally produced and particularly tasty Camembert. Fish offered in our house usually comes from the spring fish pond Schwendt in the Kaiserwinkl.
Of course, in our hotel in Tyrol, we make a point of not wasting food:
Pustertaler Sprinzen are raised in our in-house cattle farm in Schwoich, which are later processed into tasty delicacies in our hotel kitchen. The cattle are slaughtered in Kirchdorf and utilised from head to toe. With this sustainable nose-to-tail principle, we want to assume moral responsibility and utilise the meat in its entirety. The background is easy to explain: a cow is not just fillet. It is up to the art of the chef to conjure up delicacies on the table from all the parts. Our kitchen team at Das Hohe Salve Sportresort knows exactly where the cows come from. So we want to keep the ecological footprint as small as possible.
In the environmentally conscious sports resort in the Brixental, organic waste is recycled. Incineration produces new energy in the form of biogas. We also tackle the reduction of plastic waste by using recyclable materials and products.
On a holiday at Das Hohe Salve Sportresort, our guests can already save on CO2 when they arrive: After all, there is an excellently developed public transport network around the Hohe Salve Sportresort. For example, you can get off the train directly at the Hopfgarten Berglift station and reach our hotel in just a few minutes on foot. Our e-cars are then waiting for you to borrow them on site. Explore the region in an environmentally conscious way!
Reduce water waste & electricity consumption
Our goal is to use valuable resources such as water or electricity as sparingly as possible. Since the quality of our drinking water in the Kitzbühel Alps region is excellent, we don't even need to provide our guests with a minibar of water bottles. It is more environmentally friendly to simply use the spring water from the tap. This way we save not only on the supply of plastic bottles, but also on the electricity that a minibar in the hotel room would consume. In addition, the spring water in the Brixental is also healthy for the body thanks to its high lime content.
What does a hotel need to be sustainable?
In order for our hotel to be considered sustainable, we fulfil the following requirements at Das Hohe Salve Sportresort:
We design environmentally friendly, social and cultural principles.
We respect the natural environment of the Kitzbühel Alps - as well as the social and ecological environment.
We buy products seasonally and from partners in the region.
We attach importance to an ecological diet that is seasonal and regionally based.
A large part of the energy supply is based on renewable energies.
Lighting systems with low energy consumption are used.
Where possible, organic materials are used in many areas of the hotel.
Which topics are part of sustainability?
Sustainability has not just been around for a short time, but rarely has it seemed as popular as it is at the moment. Many people - including our guests - want to act sustainably and don't want to do without it on their holidays either.
But where does the term sustainability come from anyway? The wording comes from the verb nachhalten and means to remain or last for a longer period of time. In general, we at Das Hohe Salve Sportresort understand sustainability to mean that we only take resources from nature when it can regenerate again. In doing so, we attach importance to the three pillars:
Ecological sustainability
Economic sustainability
Social sustainability