Move in Hopfgarten
Our Move offers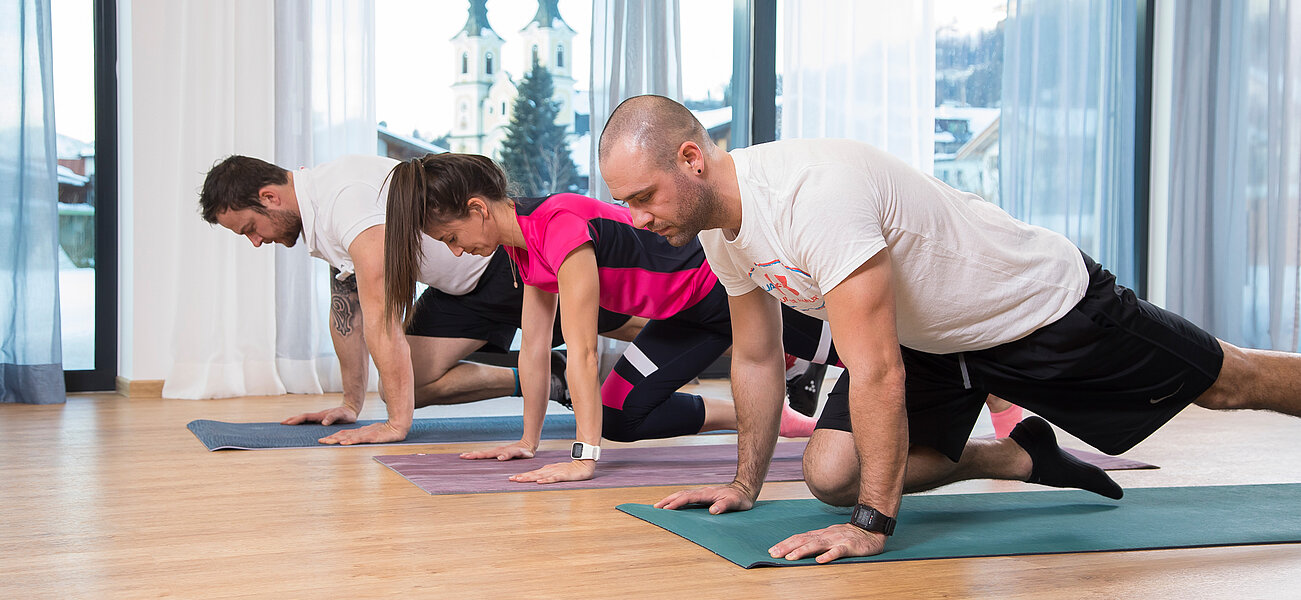 Because happiness is a matter of balance
Group courses - indoor & outdoor
Small groups for optimal support: from back exercises to functional training, core training, workouts, bike tours, yoga, walking, running, Nordic Walking and much more! The weekly agenda can be found in your room and at reception. Talk to our trainers and supervisors. The wide-ranging offer has something to suit every fitness level and there is a programme to meet every requirement – discover your own favourite type of training!
For more personalised training and a targeted increase in performance, we recommend personal training with our highly qualified sports scientists.
Set in an idyllic natural backdrop and with the contemporary Indoor Move area, training is easier and more motivating!

Whether it is indoors or outdoors, you get to experience unique moments. Choose your perfect Move offer from group training sessions and personal sessions. The variety-packed and seasonally-dependent programme is available at different times and dates, which means nothing stands in the way of your holiday.
Spiroergonometry on the bike (90 mins)
Spiroergometry is a effort test on a bicycle ergometer. Your breathing is measured during effort and performance recorded using heart rate. Spiroergometry is regarded as a health check, and provides you with detailed information about your own fitness level. This diagnostic testing is suitable for every ability level and your data will be analysed by our sports scientists. Make the most of the opportunity to talk about all the data afterwards with your trainer during the consultation session and devise a training plan with them.

€ 159.00
Bioelectrical impedance analysis (incl. consultation) (50 mins)
Using this analysis, you get detailed information about your current body composition. Our trainers will then advise you on how you can optimise your metabolism. Your percentage body water, muscle and body fat will be discussed with our sports scientists, with a bespoke nutrition and training plan worked out. Exercise, relaxation and nutrition are the three most important columns for a lifestyle that promotes health.
€ 49.00
Balance Pad Training (approx 50 mins)
Targeted training for balance and strength to do at home using the Balance Pad.
Fit into the winter (approx 50 min)
Functional training for stable trunk and strong leg muscles. Varied, very effective and smart training.
Kettlebell training (approx 50 mins)
Training with the famous iron balls. An energetic and, above all else, very challenging whole body training session. Learn the basic technique and make the most of the fantastic versatility of the kettlebell.
Run circuit (approx 60 mins)
Discover beautiful Hopfgarten, with its trails and running routes, with our coaches. The intensity is tailored to suit the group.
Mobility & agility (approx 50 min)
We pay attention to healthy joints, a mobile spine as well as exercises relevant to everyday life for more mobility and agility.
We gently strengthen our deep muscles on the mat and move our body in a controlled way. Pilates strengthens the centre of the body and activates various muscle groups.
TRX Training (approx 50 mins)
Variety-packed and intensive whole body training. Sling training is the one of the easiest and most effective training methods in the world.
Learn the basics of Yoga, or consolidate your own Yoga skills. Harmonise your mind and body to enjoy greater energy in your daily life.
Aquafitness (approx 50 min)
Joint-gentle, motivating whole-body workout for every age group in our 29.5 degree pool.
'12 Tiroler' (approx 50 mins)
Developed by Toni Innauer and Patrick Koller, these are easy exercises, carried out without equipment, for greater mobility and strength. During this training session for all ages, we emulate Tyrol's animal kingdom. Become as supple as the Alpine salamander and strong as the ibex.
Functional strength training (approx 50 mins)
Circuit training for your whole body as part of a group. The staff at the Pletzer Group use this training for occupational health.
Strong torso (approx 50 mins)
In this training session we focus on the core and on strong stomach and back muscles. The aim is to protect the spine.
Personal training (50 mins)
Our trainers determine your current physical condition and, based on that, work out an individual exercise concept. Together, we then devise individual exercises you are able to do at home. The focus is on healthy joints, a stable and strong core, flexible spine and strong legs and arms. Your own personal goals are considered too. Look forward to learning new exercises in our state-of-the-art 'Move Room' and take these with you into your daily life.
€ 79.00
Move & Relax Swim
25m sports pool, indoor and outdoor pool
€ 80.00
Move & Relax Fitness
Use of the training area, incl. Assistance from a coach
€ 110.00
Move & Relax Swim and Sauna
Use of the swim and sauna area
€ 130.00
Move & Relax group training
Participation in all group training sessions
€ 130.00
Move & Relax All-inclusive
Use of the entire Move & Relax area, including group training. (Only available when you telephone in advance to reserve)
€ 190.00