Triathlon hotel in Brixental, Tyrol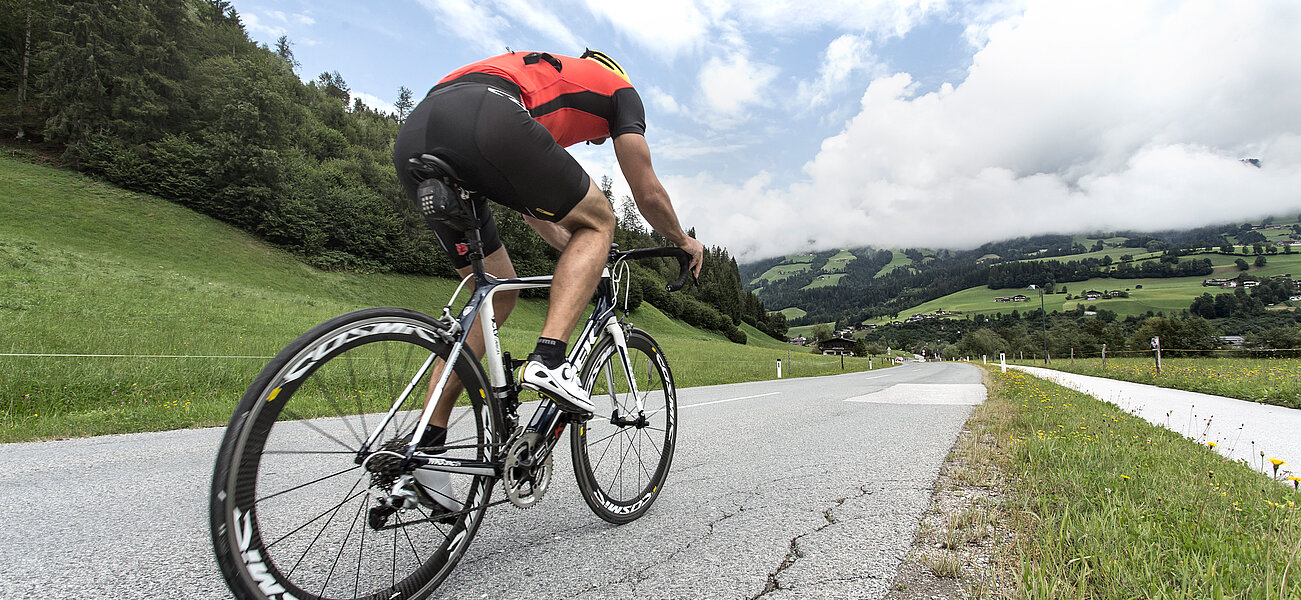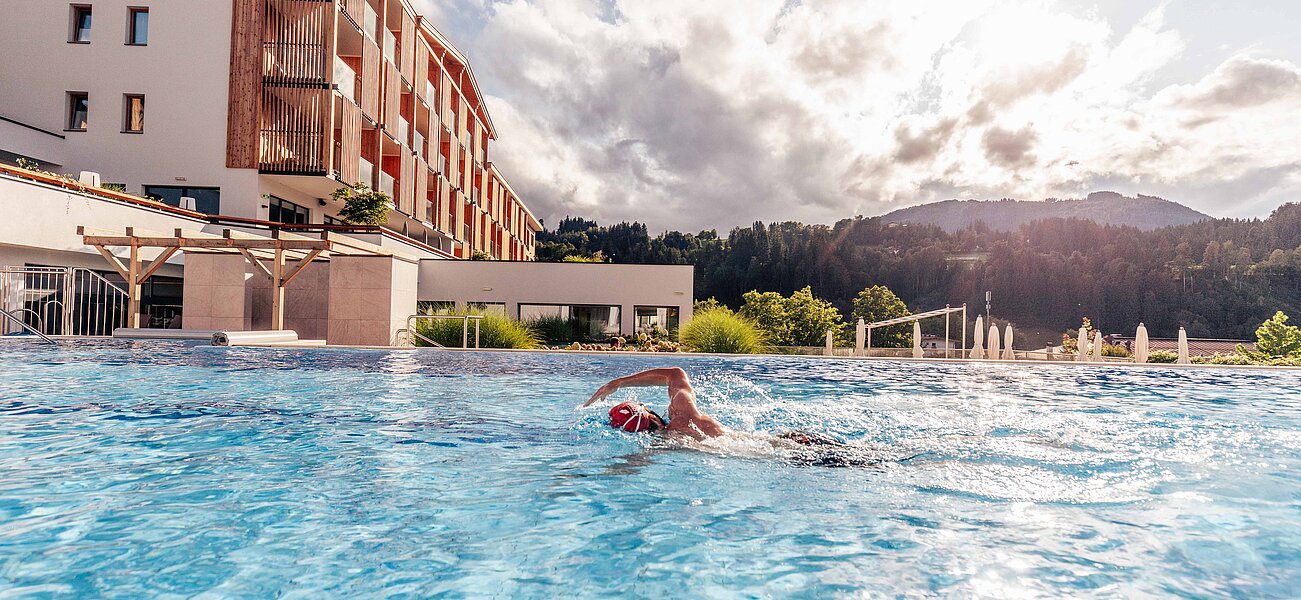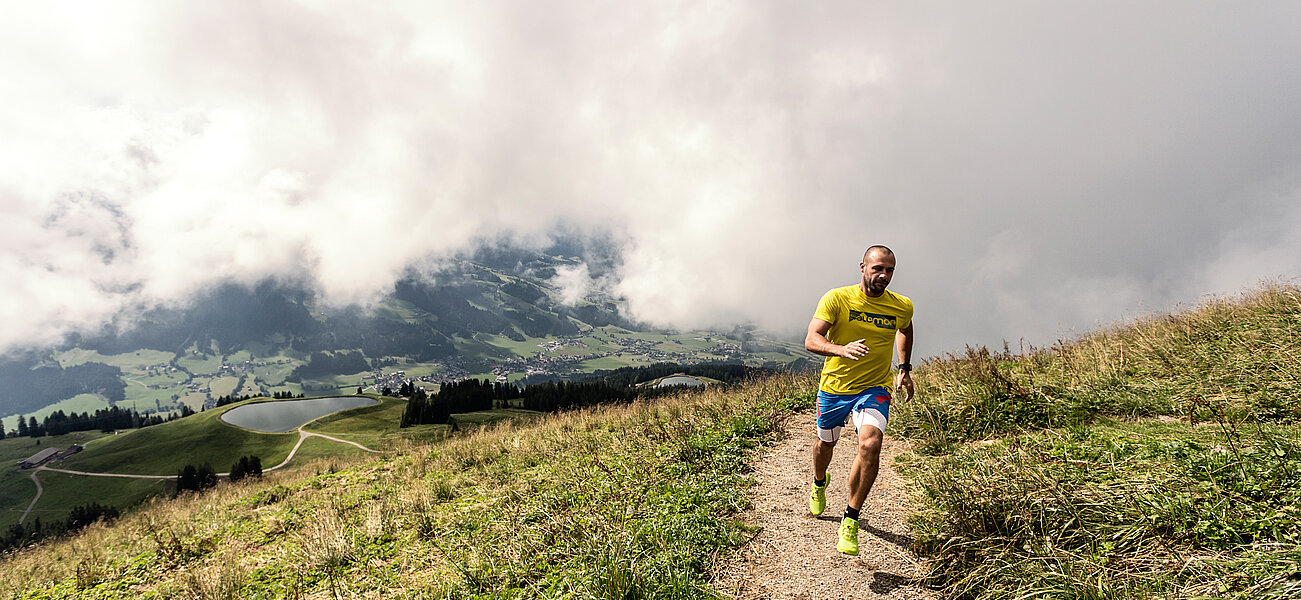 Are you keen on sport and looking for suitable accommodation? Hohe Salve Sport and Triathlon Resort provides plenty of options for you to enjoy sport while you are on holiday.
Enjoy a regenerative, invigorating breakfast, or relax in our Move & Relax area. This is how a variety-packed training day in Hohe Salve Sport Resort starts. Right from your doorstep, countless running and road bike routes take you right into the variety-packed natural surroundings in Brixental. Our perfect service is tailored to suit your sports adventure.
Triathlon Camp: Training plan, nutrition and tours
There is a great deal of interest in the trendy sport of triathlon – especially among endurance athletes. Our hotel offers a perfect setting for it: fantastic road bike training routes, opportunities for swim training in the hotel and run routes all around.

Running, swimming or cycling – you will come across optimum conditions here to get moving. Everyone who would like to prepare for a triathlon will receive guidance from experienced professionals, making our Resort just the right place. We provide bespoke advice for you and your training.
Training options in Hohe Salve Sport Hotel
There is a unique sports and wellness area in the hotel - our Move & Relax area. Here you have the opportunity to train using state-of-the-art fitness equipment. Our qualified sports scientists are happy to advise you and show you how to train in a sustainable and efficient manner. For instance, during a performance check in the guise of bio-electrical impedance analysis, or using spiroergometry.
For balance, we recommend a relaxing sports massage. This is the perfect add-on to your triathlon holiday. We set up special sports camps in the Hohe Salve Sport Resort so you can train together in the correct manner. Whether it is swimming, running or cycling - in the hotel and in the area around Brixental, athletes will come across unique conditions.
Swim training: Several options open up to you for swim training during a sports holiday in the 4-star Resort. Along with the 25 m sports pool, there are other pools in our Relax area. The crystal-clear lakes in the Hopfgarten region provide fantastic training options in the summer too.
On your road bike through Brixental: We are a designated Bike Hotel and therefore provide outstanding conditions for training on two wheels. Whether it is hire options, the large, CCTV-monitored bike storage area, or trained bike guides. Hohe Salve Sport Resort is ideal for triathlon fans. Our bike guides really know what's what and will show you the loveliest routes in the region.
Run training around the Hohe Salve: The running routes around the Hohe Salve Sport Hotel provide plenty of experiences. Sporty challenges with a superb backdrop – this is what the variety-packed routes offer, with narrow trails and climbs to tackle.
Regeneration & Wellness: Our saunas and effective massages and other beneficial treatments loosen out your muscles and alleviate tension after training.
Sports-oriented indulgence: Our team of chefs indulge athletes with healthy meals along with seasonal and regional produce. After training, the hotel's own wine bar is a suitable go-to venue to sit down for a cosy chat together about your experiences.
Comfortable suites: Our cosy rooms and suites have top-quality beds and also provide picturesque views. This ensures you enjoy a therapeutic sleep and recover well for your next day of training.
What is the Sportalpen Triathlon Camp?
What is the Sportalpen Triathlon Camp?
This Triathlon Camp in Hopfgarten is a summer highlight for all multi-sport athletes:
Road cycling in the Kitzbühel Alps
Swimming with Triathlon legend Gerhard Budy
Running at the foot of the Hohe Salve
Expedient and exciting presentations, along with individual analysis, rounds off the variety-packed programme in Hohe Salve Sport Resort perfectly.
Where are the good Triathlon routes in Tyrol?
Hohe Salve Sport Resort in Hopfgarten, with its Move & Relax area, provides optimum training opportunities for triathletes. With our very well-equipped fitness studio, the sports pool, the wellness area, bike service and storage, along with the network of sporty routes round about us, triathletes will want for nothing.