EAT – ausgewogene & regionale Küche im Das Hohe Salve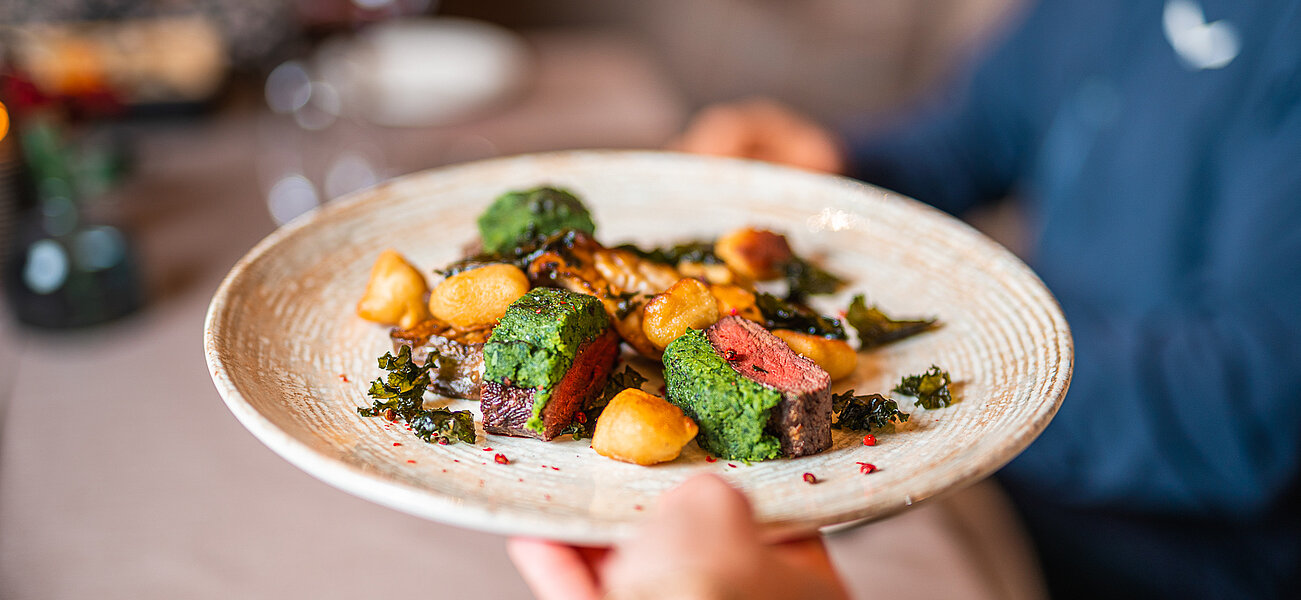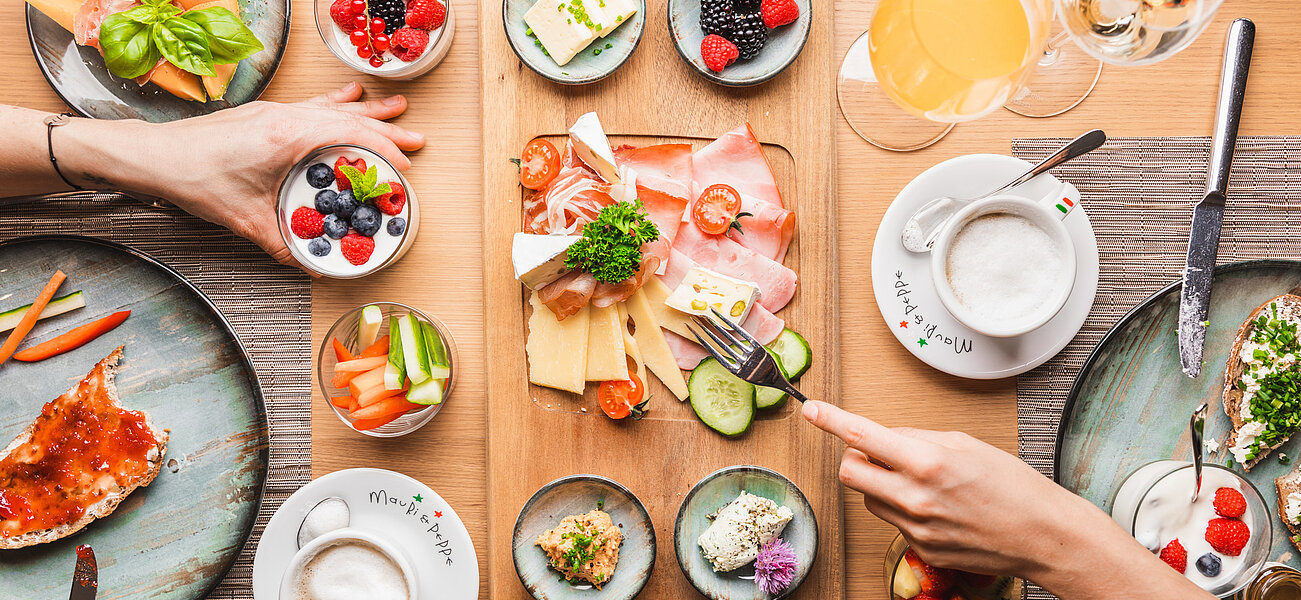 In Das Hohe Salve Sportresort BALANCE is written in capitals. For that reason, we not only place a great deal of value on the variety of options available for exercise and recuperation. A bespoke nutritional philosophy also invites you to enjoy your stay in our Sportresort to the full. We place a great deal of emphasis on a healthy and sustainable lifestyle, which accompanies our guests as a central theme during their stay.
Our Move & Relax philosophy picks up on knowledge gleaned from performance sport, enabling it to flow with your holiday day every day. The harmonious interplay between active exercise and bespoke recuperation is complemented in Das Hohe Salve Sportresort by healthy nutrition. The goal is to work with you to find the right balance between exercise, relaxation and pleasure .
In the hotel restaurant, delicious regional foods and treats come together wholly in keeping with this philosophy, as does healthy and select ingredients. Here you get to enjoy a balanced buffet breakfast and start your adventure-packed day brimming with energy! In the evening, a 5-course evening menu awaits as part of our Energy half-board and there is the themed buffet which we serve once a week.
Athletes, connoisseurs & gourmets alike savour the flavours here
We take care of our guests' personal well-being. To do so, in Das Hohe Salve Sportresort we combine our up-to-date expertise from sports and nutritional science. The result is our individual EAT concept, which can ideally tailored to suit the needs of body and mind.
Whether it is a snack after a training session in the hotel's own 25 m sports pool or after a work-out in our extensive fitness room – in Das Hohe Salve Sportresort you get to enjoy the opportunity to choose from a wide range of healthy, balanced treats.
As required, you can also experience the concept of a balanced lifestyle outside our restaurant – for instance:
Healthy
menus for every taste
Whether it is for sporty visitors, conference guests, or those who simply want to enjoy their holiday in Tyrol's wonderful natural surroundings – the ingredients we use to pamper our guests' palates come together in our own production kitchen. The result is the unique EAT concept, which considers all the needs of body and mind.
At our buffet breakfast, an abundance of food awaits:
Move & Relax area

Fresh organic milk from grass-fed cows
Home-made natural yoghurt with a home-made fruit sauce
And much more

Yoghurt to which you can mix in your preferred add-ons & cereals
Fresh seasonal fruits
A selection of regional cheeses & sausages
Healthy spreads
Exclusive regional jams
Immune boost shots
Various juices made from regional fruit
Juicer for the ultimate fresh hit!
Turmeric, ginger, fresh pepper & high-quality salt as IMMUNE BOOST ADD-ONS

Turmeric has an anti-inflammatory effect, particularly for athletes. The immune system is enhances thanks to the spice's antioxidant properties.
Ginger as an immune boost
Salt for fluid balance
Pepper supports the body's defences thanks to its anti-inflammatory effect. Pepper is also recommended for fat burning.

Hot egg dishes
Crisp pastries
Freshly baked bread
And much more
To start your day our Energy cuisine provides a choose from our Mover & the Relaxer breakfast. The displays at our buffet breakfast provide information about how the ingredients chosen can help promote your health and immune system. This means that the holistic approach to your stay in our sports resort has a role to play in sustainably enhancing your defences and providing you with greater balance and health.
And so you can determine straight away which meals and ingredients are part of our Energy cuisine at the buffet, we have marked these delicious treats out with the Move & Relax logo in green & blue.
The evening meal is served to you at your table by our trained staff. You have a choice here with us:
2 soups
Salad buffet
3 Mains (1 x vegetarian)
or the Move & Relax menu from our own Energy cuisine
(designated via the Move & Relax logo in green & blue)
2 desserts from the hotel's own patisserie
Along with our regional cheeseboard
Delicious regional Austrian foods
Healthy pleasures: We dine wholly in keeping with this maxim in Das Hohe Salve Sportresort. To do so, we combine top-quality produce with specific ingredients which for the most part come direct from the region. Which means we not are only providing our guests with wonderfully delicious foods, but are also doing our bit for the environment! Thanks to short delivery routes, day in, day out, we save on emissions and reduce our carbon footprint.
Our regional suppliers include:
Bäckerei Margreiter, who indulge us with bread, bread rolls and pastries
Früchtegroßhandel Maier, from whom we regularly get fresh fruit and vegetables
Milchbuben, who are renowned for their locally produces, really tasty Camembert
Quellfisch Fischteich Schwendt in Kaiserwinkl, from whom we receive the highest quality fish – almost fresh from the rod – deliveries
Regional meat comes from animals that have been born, reared and slaughtered in Austria.
We regularly serve meat from the hotel's own farm in Schwoich. Among others, we keep Pustertaler Sprinzenhere, which are only found in around 80 farms throughout Austria. As breed of the year 2014, the meat of the Pustertaler Sprinzen is particularly prized for its succulence and marbling. For even greater sustainability, we make us of as much of the animal as possible: For instance the bones are used in the kitchen to make soups etc.
Food for a sustainable & healthy lifestyle
In Das Hohe Salve Sportresort we seek to create experiences with you, that will provide greater balance and enhance an awareness of your body. It is upon this leitmotif that Move & Relax is based too. This unique philosophy which can be seen, heard and felt throughout our Sportresort, forms the basis for a healthy lifestyle. We pick up on the following three pillars and describe them in the best way possible to our guests:
Exercise
Recuperation
Nutrition
In harmony with the Move & Relax philosophy
Nutrition is just as important as sport and recuperation and has a role to play in a balanced lifestyle. From breakfast through to the evening meal – the Move & Relax philosophy can be found in the restaurant and wine bar Das Brixx , in the hotel restaurant and our Move & Relax Energy cuisine.
The benefits of our Move & Relax Energy cuisine:
Ingredients to promote a healthy, balanced lifestyle
Strengthening theimmune system for greater strength & endurance
High-quality proteins, healthy fats and expedient carbohydrates
nourishingnutrition
Visually appealing
Enhances individual well-being
Move, Meet
& EAT: A suitable accompaniment for your seminar
In Das Hohe Salve Sportresort business travellers will find a place that is just made
for working and relaxing: Along with ideally kitted out seminar
and conference room options, we offer our guests a perfectly tailored
combination of exercise, recuperation and nutrition.
During your activity breaks you can replenish your energy stores and enjoy some
snacks, which help give you renewed impetus for your thought processes. With little
energy balls, a selection of colourful smoothies and specific 'brain foods', you
will find natural ingredients which are great for both body and mind and
which can contribute to a healthy lifestyle.
Balanced cuisine in Das Brixx too
In the àla carte restaurant & wine bar Das Brixx - which also belongs to Das Hohe Salve - gourmets, athletes and activity-oriented holiday-makers alike are very well catered for. Are you looking for adventure and do you prefer to lead a healthy lifestyle?With typical specialities from the Alpine area, Das Brixx inspires our guests each and every day with local, fresh and high quality ingredients. Delicious meals are of course served with that hospitality Tyrol is renowned for.
Also, anyone who is looking for new adventures, will certainly strike it rich in Das Brixx: We always offer events for wine lovers, gourmets and those who like to party.
In Das Brixx in the first instance it is high-quality, seasonal produce from the region which finds its way on to your plate and which we prepare fresh in our kitchen: For instance the meat, which is plated up in Das Brixx is 100% Austrian in origin. This is not just a delight for your palate, but also for your body and soul as a whole.
Do you have questions about our EAT concept in Das Hohe Salve Sportresort, or preferences when it comes to food that we ought to pay heed to during your stay here in our hotel?