Arrival & mobility
Finding us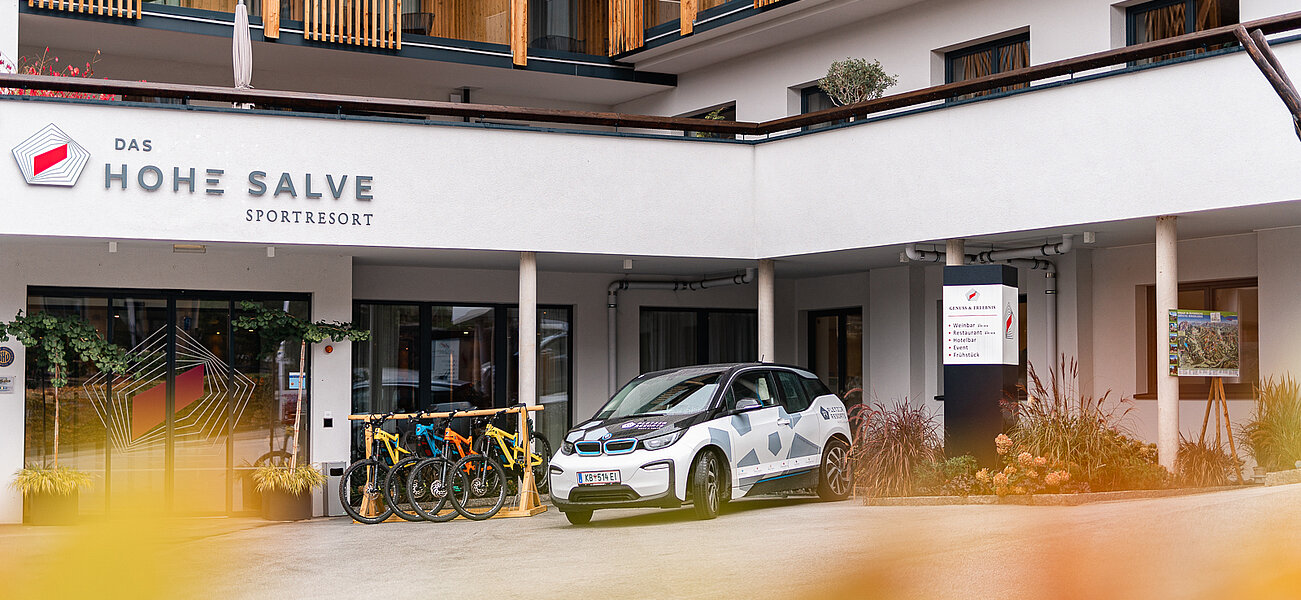 Enjoy a relaxing arrival!
Ever thought of leaving your car at home? You can get to Das Hohe Salve Sportresort >in Hopfgarten easily, quickly, in relaxed fashion and without any traffic jams by public transport – so your holiday starts even when you are travelling here.
Did you know that traveling by train is easier and more comfortable than ever?
Countless direct connections within Europe bring you quickly and safely to your relaxation and active vacation in Hopfgarten. The train station "Berglift" is only a 5-minute walk away from the Sportresort. With the guest card you can use the public transport from Wörgl free of charge. We will be happy to send you this in advance by e-mail.
The easiest way to get from the train station or airport to the hotel is with our cab partner LACI. You are welcome to book the cab shuttle from the comfort of your own home - the driver will then be waiting for you on the day and place of arrival. This makes your arrival by train or plane even more relaxed.
Highlight for rail travel: If you book directly with us, you will receive a free room upgrade* and 10% off the room rate* per person (announced when booking). Furthermore, you have the possibility to rent our e-cars at a reduced rate (subject to availability and without advance reservation).
In your sleep to the Das Hohe Salve Sportresort - with the ÖBB Nightjet
Board the train comfortably at home in the evening and start your vacation relaxed the next morning. The ÖBB Nighjet makes it possible. There are already comfortable night train connections to Wörgl from many destinations.
Want even more comfort?
With the ÖBB luggage service you can easily and inexpensively have your luggage picked up at home and upon arrival at your sports resort it is already comfortably in your room.
*Subject to availability, not on already reduced prices or packages and only for direct bookings.
With the guest ticket for the Hohe Salve holiday region you enjoy free bus and train travel in the Kitzbühel Alps region. For that reason we recommend that you apply for your guest card before you are due to arrive. Then you won't need to purchase a train ticket from Wörgl, but can enjoy free train travel direct to Hopfgarten.
3 airports in the vicinity: If you are arriving by plane, the three cities of Munich, Innsbruck and Salzburg are around 1 1/2 to hours away. Via Wörgl, the journey then proceeds by local transport services to Brixental and here to us in >Hopfgarten: From the 'Berglift' station it is just a 5 minute walk to our hotel.
From Austria
via Salzburg
Via the A1 or the A10 take the Salzburg West exit and drive on the main road to the German border and Bad Reichenhall (or drive via the German border on the A8 to the Bad Reichenhall exit). Follow the main road to Lofer and then towards Kitzbühel to St. Johann. Now keep to the signposts for Brixental and continue to Hopfgarten.
From the motorway junction 'München Süd' follow the A8 towards Salzburg for around 56 km. At the motorway interchange at Inntal, change from the A8 to the A93 heading for Innsbruck/Kufstein. After around 25 km you will come to the Austrian state border – here the A93 changes to become the A12. At the Wörgl Ost junction, leave the A12 and drive to Brixental, follow the signposts for Hopfgarten.
Mobile on site with our BMW i3
Since October 2019 our hotel has had new E-cars which you can hire at any time for € 50 per day. This means you can be mobile while you are here and explore our beautiful region in comfort and in an environmentally friendly manner.
Our E-charging stations are available free of charge.
Secure your Superior room now and get 15% off your power getaway from August 20 to December 15, 2023 from 3 nights Sunday through Thursday.
Are they not the right days of the week for you? Then please ask directly at the resort, the discount is also proportionally redeemable for the nights from Sunday to Thursday (minimum stay 3 nights).