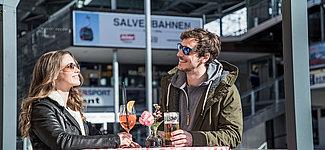 Feel alive in every fibre of your being!
Das Hohe Salve Sportresort makes it possible.
Complete wellbeing is the sum of many fortunate circumstances all coming together at Das Hohe Salve Sportresort. But actually, the only part that has anything to do with luck is the wonderful location. For everything else, we pull out all the stops of hospitality.
Our 4-star hotel is situated in Hopfgarten in the beautiful Brixental valley in the middle of the Kitzbühel Alps. But that's enough geography. Above all, we're located in the hearts of sports enthusiast nature lovers from all around the world, who rate our range of activities, both indoors and out. Did we mention the cable car right next door yet?
Delicious Meals & Bar Culture
We offer you an energy-packed breakfast in our hotel restaurant for an active start to the day. The 5-course menu on the energy half board option delivers what it promises: pure energy for your holiday (and then some)! Round out the day in our well-stocked bar and, of course, we have a traditional Tyrolean guest house with authentic delicacies.
Want to feel better and have more energy everyday? Craving more movement? Have you always wanted to get a head-to-toe health check done? Now is the perfect opportunity! Our professional Move & Relax team under the directorship of former professional and Olympic athlete Patrick Koller will bring you into balance.
The body needs good quality sleep to regenerate. That's why we have fitted out our 104 rooms across three categories and our eight suites with lots of attention to detail : modern interiors with luxury materials and first-class bed systems. Every room also has its own balcony with a marvellous view over the mountain landscape.
Mountain peaks on the horizon provide inspiration and make every meeting and event more pleasant. Thanks to our large windows, the Tyrolean panorama will be a constant companion at your get-together, conference or wedding. And the outlook is also top-notch for technology and equipment in our seminar rooms – with space for up to 400 people.