Massages and other wellness treatments.
Let yourself be pampered by our "healing hands".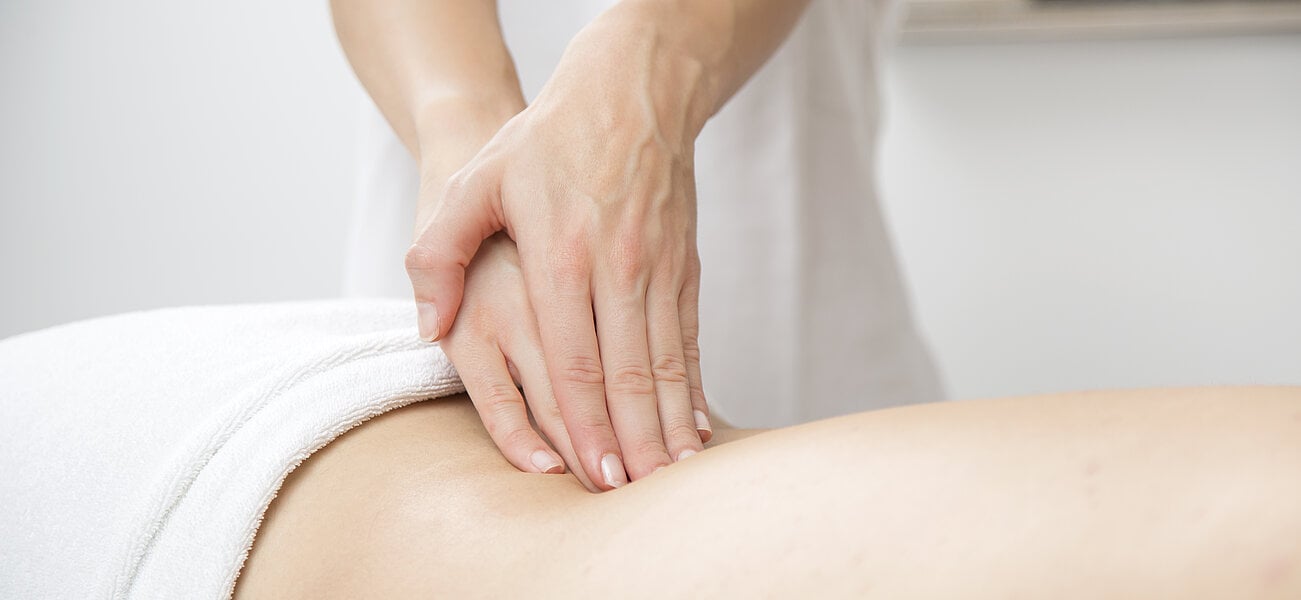 When you relax, time stands still, or at least the clocks tick more slowly. Your inner energy level drops, your thoughts calm – you redefine your inner core. You arrive in yourself.

Enjoy wonderful massages carried out by our professional staff. Whether it is after sport, or after a challenging day, you will find an offer to suit your needs here.
Take a bit of time for yourself and treat yourself to this beneficial classic treatment. Using wonderful massage techniques, your muscles are eased, tension is alleviated and your circulation stimulated. Just switch off and relax.
| | | |
| --- | --- | --- |
| Classic massage | 25mins | € 46,00 |
| Classic massage | 50mins | € 76,00 |
| Classic massage | 75mins | € 119,00 |
| Partical body massage with cupping | 50mins | € 78,00 |
| Partical body massage with medicinal mud | 50mins | € 78,00 |
Your muscles and fascia are eased with this somewhat more intense and forceful massage technique. Your body's circulation is stimulated and your muscular regeneration optimised. We recommend this treatment to revitalise after an exercise session, to get fresh and fit again.
| | |
| --- | --- |
| 25mins | € 48,00 |
| 50mins | € 78,00 |
| 75mins | € 123,00 |
The combination of a beneficial massage and warmed lava stones await you here. Tensions and blockades are released through the warmth of the basalt stones, re-harmonising body and mind.
| | |
| --- | --- |
| 25mins | € 46,00 |
| 45mins | € 78,00 |
| 75mins | € 108,00 |
Electric muscle stimulation from Compex®
Relax your tired muscles and feel gentle electrical stimulation. Choose from rehabilitation massages, relaxing massages and pain treatment and enjoy active regeneration after your efforts.
Compex® Electro stimulation € 29.00 for 25 mins
Compex® Electro stimulation with partial body massage € 49.00 for 50 mins
The body is a finely tuned unit that works together. By pressurefully activating the reflex pathways of the by means of a special massage technique, all organs and muscles of your body are activated. The individual reflex zones on the soles of your feet are assigned to specific organs and tissues. Your well-being is increased by this pressure point massage and at the same time activates your self-healing powers.
| | |
| --- | --- |
| 25mins | € 48,00 |
| 50mins | € 78,00 |
The perfect massage for your legs after a superb day of skiing, a breath-taking bike tour or a wonderful hike. Our massage therapists ease weary muscles and fascia, and pamper your legs with beneficial oils.
25mins € 39.00
You and your therapist devise an individual relaxation and massage concept based around enhancing your physical well-being and optimising your performance ability. You and your therapist work out your needs and requirements, and a bespoke treatment is then carried out. The philosophy of Sport Resort Hohe Salve is implemented in an individual manner here, focussing on the interplay of exertion and relaxation. Specific attention is paid to making your personal treatment sustainable - your therapist is there for you during your stay to answer any questions you may have.
65 min € 104.0
Make the most of the unique hydrotherapy whirlpool and enhance your well-being. In the Hydroxeur® Whirlpool, air is mixed with water to create micro-fine particles using 144 jets and you get to enjoy a unique underwater massage. Tensions are eased with this bath, circulation improved and the connective tissue stimulated. The pulsating vibration massage activates your lymph system and has a positive effect on your metabolism. Slip away from life's hectic pace and enjoy the calming, nourishing and regenerating effect of our 'Slip away' Hydroxeur® bath.
20 mins € 38.00
Pampered from your feet up to your shoulders with circular movements using 32 ergonomically arranged, rotating water jet nozzles. AquaThermoJet® supports recovery from overexertion, helping you relax. Massage movements with the warm jet of water, at a temperature of around 35 degrees, improves circulation in your tissues and activates your metabolism.
| | |
| --- | --- |
| 30mins | € 26,00 |
| 30mins incl. medicinal peat | € 38,00 |