Day Spa - Wellness offers in the Brixen Valley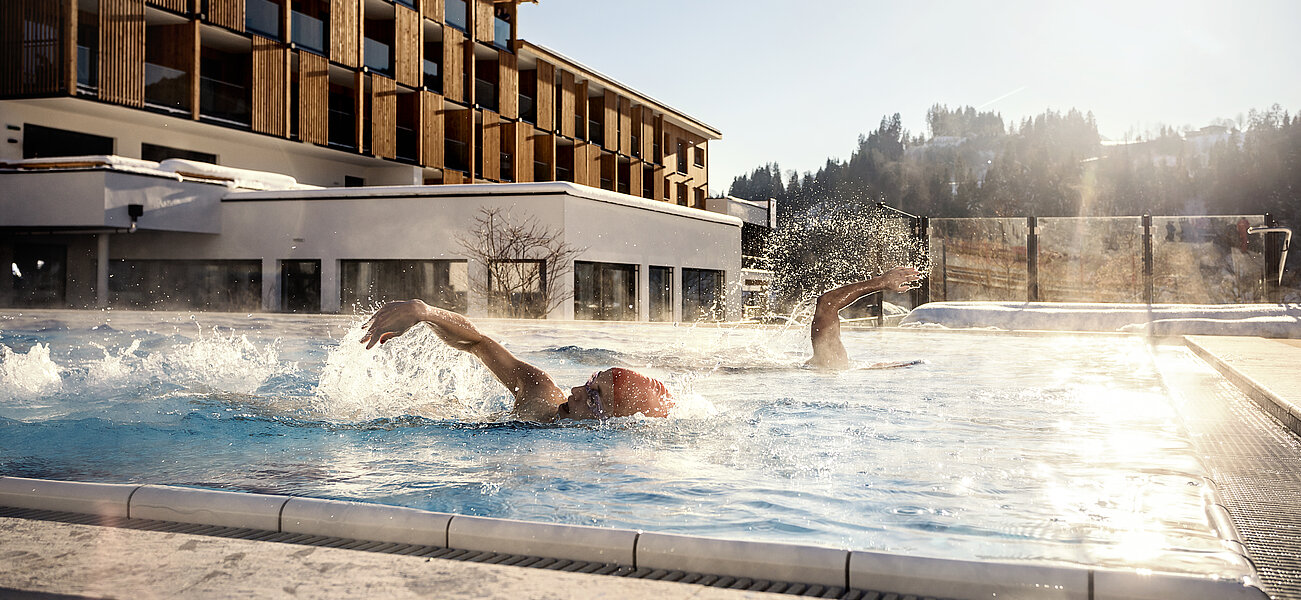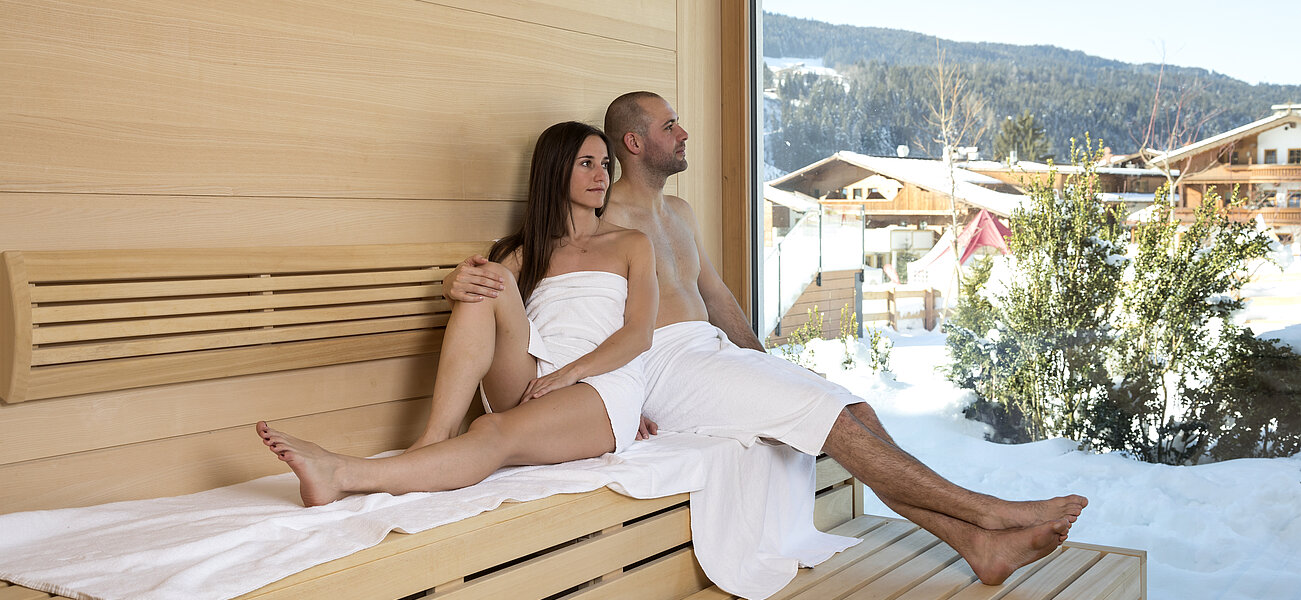 Would you like to have a day away from the daily grind? Let your mind roam? And indulge in something good? Then it has to be a wellness day! The wellness area in Hohe Salve Sport Resort is waiting for you – even if you aren't staying the night in the hotel. Want to switch off? Looking for somewhere to relax? Then our 4-star hotel in beautiful Brixental is just the place.
Rest. Relaxation. Pure natural adventures.
A sauna session can provide relaxation too, much like a leap into one of our pools and a relaxing and beneficial massage treatment. The Kitzbühel Alps are the best region to harmonise mind and body and the Hohe Salve Sport Resort is a suitable location for an unforgettable wellness experience.
Wellness day in Hopfgarten
Even a short stay in our 1400m² Move & Relax area can work wonders – pure relaxation is offered here, so too the requisite level of activities. The focus is always on your well-being and own health. Whether you are enjoying a holiday here, or are here for the day as a visitor – everyone is welcome in Hohe Salve Sport Resort!
Move & Relax Day Spa entry (Use of the entire Move & Relax area) € 49.00

Move & Relax Day Spa Plus (Use of the entire Move & Relax area, incl. 25 minute partial body massage) € 79.00
A wellness day with friends, together as a couple, or just by yourself
Are you looking for variety and relaxation away from the daily grind? Daily life is often stressful and provides little opportunity to take a deep breath. Our experts are here for you and will take care of any suggestions or questions you might have. We would like to pamper you – whether that is with sport in the natural surroundings, or with culinary delights. Wellness has many guises. You can pamper body and soul in equal measure with a massage, or a beauty treatment in our Relax area. Do something good for yourself and treat yourself a few hours of relaxation in Hohe Salve Sport Resort. Enjoy your own wellness time-out – in the middle of the mountains in Tyrol!
Wellness – Day wellness in the Hohe Salve holiday region
What could be nicer than a relaxing wellness day in Tyrol? The unique blend of exercise & relaxation in Hohe Salve Sport Resort is perfect for anyone who wants to do something good for their body and mind:
Feel the warmth in the sauna or in the steam bath.
Unwind during a massage: Hot Stone Massage, foot reflex zone massage, Signature Treatments and much more
Pamper your face with some relaxation during a his & her's cosmetic treatment.
Be pampered with a pedicure, manicure, eyebrow colour etc.
The fitness area provides training opportunities for all ages.
Or get in a good work out with a swim session in one of our pools.
Culinary pleasure can also contribute to a relaxing time-out. Be enchanted by our regional cuisine and the highest quality treats. Our restaurant 'Das Brixx' rounds off a relaxing day in the Day Spa. Start your wellness day full of energy with an extensive breakfast in our hotel on your wellness day. Or bring the day to a close with a wonderful evening meal and a wide range of traditional dishes and fine cuisine. We want to return home feeling fully relaxed and with a feeling that this sense of equilibrium is wholly sustainable.
One wellness day not enough for you?
Then it doesn't have to end there. In Hohe Salve Sport Resort you can be pampered for a full wellness weekend.
What is the sign of a good wellness day?
Wellness is all about well-being. We want our guests to get more than that in the Move & Relax area. We want you to find long-term relaxation – even beyond your stay in our Sport Resort. As our guest, you can avail of numerous offers. There is something for everyone here – from a relaxing wellness treatment to a fully-charged fitness programme. For us this is what defines a day in the Day Spa.
What is it that makes wellness in Tyrol especially good?
Freely translated, wellness means 'good health'. This is about harmonising body, mind and soul. Whether it is for the longer term, for a weekend or just a few hours. Leave the stresses of the daily grind behind you and enjoy some time-out in Sport Resort in the Kitzbühel Alps.
Indulge in relaxation
Re-energise
Find balance
Let your mind wander
What treatments are available in the Day Spa?
Day visitors and hotel guests alike are very welcome to enjoy our Day Spa. Along with fitness training, sports camps and individual performance checks – for which the Hohe Salve Sportresort is renowned – there are a wide range of classic wellness and beauty treatments.

Massages:
Classic massages
Sports massage (50 mins)
Hot Stone Massage (36 mins or 60 mins)
Electrical muscle stimulation using Compex® (25 mins or 45 mins)
Manual lymph drainage (25 mins or 50 mins)
Foot reflex zone massage (25 mins or 50 mins)
Fresh Feet – Foot massage (25 mins)
Fresh Legs – Leg massage (30 mins)
Signature Treatment (35 mins or 65 mins)
Hydroxeur® treatment (20 mins)
Aquathermojet® treatment (20 mins)
Facial treatments:
Shorty facial treatment (30 mins)
Facial treatment with fruit acids (60 mins)
Your Expert Care (50 mins or 80 mins)
Face Intense (50 mins)
Beauty Flash facial treatment (50 mins)
Best Ageing (80 mins)
The man of action facial treatment (50 mins)
Short nail service (25 mins)
Pedicure for lovely and well-tended feet (50 mins)
'Shorty' Hand and foot care (60 mins)
Spa Manicure
Spa Pedicure
Polish
Polish with exfoliation - polish
Exquisite eye treatment (35 mins)
Gentle depilation using hot wax
Extras:
Diamond abrasion (10 mins)
Ultrasound – to channel in active ingredients (10 mins)
Eye treatments (available to book during a facial treatment)