Kitzbühel Alps
Movement made simple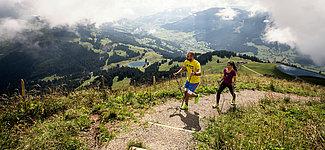 Doors open and go forth into the mountains!
It's no surprise to us that the Kitzbühel Alps are one of the most popular holiday destinations in Austria. Mother Nature, the cable cars and the tourist boards have created an attractive proposition here that knows how to charm all year round.
Hikers, cross country skiers, alpine skiers, bikers, triathletes, golfers, trail runners, tennis players ... all of them find the area around Das Hohe Salve Sportresort in Hopfgarten to be the perfect terrain for reaching new heights and enjoying moments of alpine calm. And the Hohe Salve cable car, located right next door, is just waiting to take these mountain lovers up into the middle of the ski and hiking areas of Wilder Kaiser-Brixental.
As if that weren't enough, there are also exciting trips on the list of possible things to do, with destinations such as the nearby "Gamsstadt" of Kitzbühel or the Kufstein Fortress, as well as lots of family attractions in the mountains and valley, sporting highlights such as the ATP tennis tournament or Kitzbühel's world-famous Hahnenkamm ski race and, last but not least, a cultural offering comprised of custom, cuisine and music.